I've got some exciting stuff to share!
My song "Blues Alone", which was a winner of Honorable Mention at the John Lennon Songwriting Contest and pre-finalist at the Billboard Song Contest is used and featured for a beautiful Group dance routine called "Return to Grace" on the popular show "Dance Moms" in season 3 episode 14 ("Watch your back, Mack") on LifeTime TV Networks! Another romantic, moving and inspiring piece done by the choreographer. They won second place with it at the Energy National Dance Competition. I am so grateful to be a part of such creative Art, this is the third song they use on the show.

The song was released on my first Solo EP in the end of 2008 and it is available on iTunes and Amazon and others!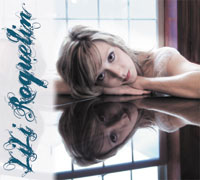 LILI ROQUELIN: The EP
(includes "Blues Alone", placed in several documentaries and on LifeTime, and multi-award-winning music video "I Saw You")
iTunes | Buy CD | Google Play| Amazon| Other retailers

ALSO!!!
My song "Come and hear my story" was used on MTV News Canada!!!
BEFORE I FORGET!!!
Lots of events coming up, go to the Tour section
I started practicing with the new drummer and adding a new bassist this week-end, very exciting!
"THANK YOU" from my new album BEAUTIFUL SUN has been shared on Facebook a lot, I am so grateful TO YOU my listeners for that!