Songstress LiLi Roquelin lets listeners in
Songstress LiLi Roquelin lets listeners in – What's the Buzz (The Queens COURIER)
By Steve Mosco (March 2011)
Front Cover & Article
Melancholy is not an emotional reaction that springs from the gut after sitting in traffic for too long. It is not caused by a heavy workload or a stubbed toe in the blackness of night. No, the gentle sadness of melancholy is the result of one terror and one terror only – romance.
LiLi Roquelin's music is born from that thoughtful desperation. The French-born Astoria songstress gracefully intrudes on the listener's audio receptors, transporting them back to the romantic source of their own melancholy – yet, she does it with a sweetness that makes the listener want to recall those memories.
If western Queens was the human brain, Astoria would be the part that controls music – just ask the musicians who live there. Roquelin joined her first band back in her home country on the French Riviera when she was in middle school. She sang and co-wrote the band's songs and had her first taste of performance at school gatherings.
"I still remember my first concert, which was for a big school event," she said. "When I got off the stage, I felt so light, and it was a revelation. I knew I wanted to do this for the rest of my life."
It was a few years later when she moved on to a more rock-driven sound and decided to take her talents across the Atlantic to her new home in America. Once here, she fronted a couple of bands in Cleveland before deciding that what she really wanted was to be a solo artist.
She moved to New York City and picked up the piano immediately upon her arrival. That instrument allows her a more personal touch with her music – charming the listener with each and every chord and letting them in on her life story.
With her music, Roquelin wants to tell stories about the situations and characters that inhabit her living experience. This approach gives listeners an insight into a life other than their own and gives Roquelin an outlet in which to pour her creative heart.
"[My music] is usually about things I have experienced, like an insight on life, some events and behaviors around me that make me want to express my feelings about it," she said, adding that she even uses dreams as a source of writing material, such as in her song "Should You Get Mad."
Another of her songs, "How We Grow," was inspired by someone from her home country with whom she lost touch. She wrote the song after reconnecting with the person and hearing about all of the changes that had occurred. Each song has a special place in Roquelin's heart – the tunes evoke memories of old friends and old feelings in her, as well as in the listener.
Her melodies drum up an overwhelming sense of nostalgia, yet there is nothing outdated or cloying about it. It is obvious that Roquelin's music is doused with all of her sensibilities – that each song features a collage of her energetic feelings.
"Every song has a particular story and is special to me because I put all my energies in each one of them," she said. "Sometimes I hear a melody in my head, and I tape it and then develop the words and accompaniment from there, or if I'm at the piano, I can have a riff and then I would build a song from there, or I can write a poem first and then come up with a melody and chords."
Her latest album, "Will You Hate the Rest of the World or Will You Renew Your Life?" is currently available on her web site, www.liliroquelin.com, and also on iTunes. Right now, Roquelin invites readers of this article to receive a free download when they join her mailing list on the web site. Also check her out on Facebook and follow her on Twitter.
Roquelin is currently in studio as she writes new songs for her next album. She has put together a "team of top-notch musicians to add different instruments."
Front cover: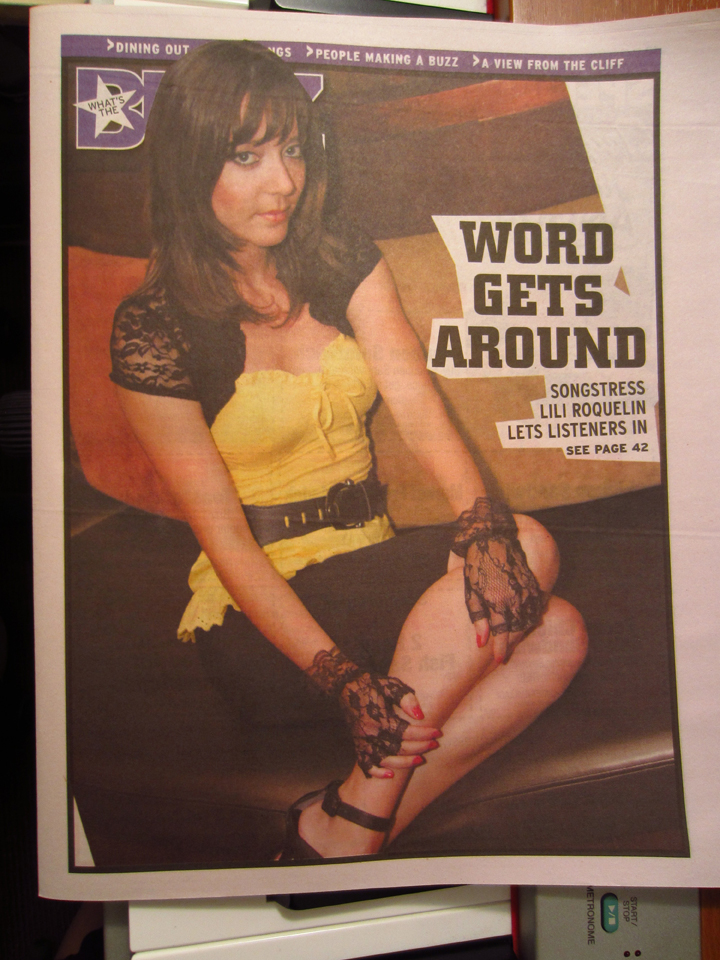 Article page: